Big hopes for the year ahead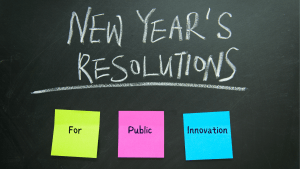 January 4, 2023
More than 90 chief innovation officers from cities around the world recently gathered for the Chief Innovators Studio—the largest such gathering since Bloomberg Philanthropies began seeding the innovation movement in local governments a decade ago, and the first chance for this group to reconnect in person since the pandemic.
As 2023 begins, we asked a number of these chief innovation officers to share their biggest hopes for public innovation in the year to come.
Here's what they shared:
Brian C. Dillard, Chief Innovation Officer, San Antonio, Texas
My hope for the new year is that public innovation isn't categorized into a niche category or department, and that it truly becomes a principle for city government and a visible product in our service to residents. Whether through truly routine data-driven decision making on a daily basis, or process redesign, modernization, and execution, I am excited to see us walk the walk in 2023 and beyond.
Arna Ýr Sævarsdóttir, Service and Digital Transformation Manager, Reykjavik, Iceland
My hope for the year 2023 is that we continue to—and put even more emphasis on—data and data-driven decision making, for and with our citizens. By utilizing data, we can truly push work towards the triple bottom line of social, environmental, and economic improvements which are the key factors to sustainability and quality of life in our cities.
Brian Smith, Director, Office of Performance and Innovation, Minneapolis 
I hope to see the field of public innovation take equity seriously. Often times we use the term "Inclusive Design," assuming that our methodologies will create products that understand and enable people of all backgrounds and abilities to use the products. Being serious about equity requires that the field of public innovation include those that our systems were not originally designed to serve. We also have to analyze the new products and systems we build using the lens of those that are undervalued, marginalized, and ignored. If our innovations are working for them, they work for everyone. This is my hope if we are to be call true "public innovators."
Lyndsay Gavin, Innovation Projects Manager, Durham, N.C.
I hope to see continued strides toward transparency to the communities we serve—transparency of effort, processes, and the data that informs decisions. I'm excited to see how incorporating not only co-design of programs and interventions, but co-delivery with members of often overlooked groups in the Durham community might continue facilitating this transparency and trust.  
Antonio Carvalho, Secretary of Governance,

Maceió

, Brazil
I hope to see a more engaged community designing solutions alongside the government on problems identified jointly. There is great space to co-design in social innovation, as we did through the Bloomberg Philanthropies Innovation Training Program with our project aimed at breaking the cycle of poverty by creating support networks for mothers so they can work.
Melissa Kozakiewicz, Assistant City Manager, Kansas City, Mo.
We have so many big dreams for innovation in 2023, but maybe the most fun is the goal to build beauty where it doesn't already exist. Here, this manifests in a number of initiatives, from a series of large scale murals activating blighted blocks to installing a park space atop a noisy highway. 
Dan Hymowitz, Director, Mayor's Office of Performance & Innovation, Baltimore
My New Year's resolution for public innovation is to strive for durability! Man, has it been a rollercoaster over the last few years—the pandemic, economic turmoil, accelerated climate change impacts—to name just a few challenges. When you layer on disruption to city government workforces, that makes change in government nearly constant and public innovation that much trickier to sustain or get to "stick." That's one reason Baltimore's Innovation Team is scoping a new project where we would support city strategies on hard-to-fill government jobs. So here's to a 2023 full of creativity and also effective—and durable— implementation of bold, new approaches. 
Andrea Apolaro Lemo, Coordinator of the Citizen Innovation Laboratory, Montevideo, Uruguay
We must ensure that teams in government are able to take risks and generate knowledge—and at the same time, have support even if they do not find answers quickly or make mistakes. 
Nicolas Diaz, Chief Innovation & Data Officer, Syracuse, N.Y.
I would like to see procurement become a part of the portfolio of tools that cities have to innovate, be more data-driven and achieve equity goals. Through our participation in a new program with Bloomberg Philanthropies and the Government Performance Lab, Syracuse will be making its procurement function strategic by releasing a yearly plan where we will share more information proactively, key procurement will be more data-driven in how we structure contracts and incentives, cumbersome application processes will be simplified (and digitized when appropriate), and the equity dimension of procurement will be strengthened by ensuring opportunities and outcomes of contracts target the unserved and underserved parts of our constituency.
Jenny Kessler, Director, Mayor's Office of Policy and Innovation, Washington, D.C.
This year, our Bloomberg Innovation team will deepen our continued focus on increasing public awareness of the impact of public innovation on local government. We hope to build mutually beneficial relationships between local government and residents, including by using technology to re-shape how the public interacts with government. That starts with engaging, educating, and spurring community action to affect change.
Juan Felipe Yepes, Innovation and Public Value Leader, Public Innovation Lab of Bogot

á

-iBO, Bogot

á, Colombia
For us at iBO, we hope that in 2023 we can tear down the barriers between public and private innovation. We want to create a collaborative government where startups, entrepreneurs, and social innovators can help the public sector solve public challenges and get paid for their work; a place where public servants understand the value of private innovation and use the power of govtech for efficiency, participation, and transparency. That is our roadmap to make public innovation sustainable in the future.