5 ways turning city streets into art fuels innovation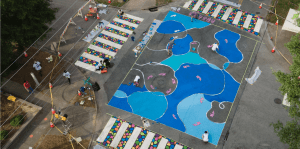 April 27, 2022
Across the United States and around the world, cities are turning gray streetscapes, dark underpasses, and drab public plazas into giant canvasses for artists—and entire communities—to enliven with paint.
The results of these projects supported by the Bloomberg Philanthropies Asphalt Art Initiative are transformative, as the photos below make clear. Asphalt Art is not only lifting the spirits of city dwellers who walk, bicycle, or meet friends in and around these colorful scenes. It's also making these places safer to go, while inspiring local leaders to think boldly about how they can create impactful change in their communities, practically overnight.
Bloomberg Philanthropies has supported 42 of these projects in U.S. cities and 3 pilot projects in Europe—and currently is offering grants worth up to $25,000 to 20 European cities to carry out new transformations. In addition, its free Asphalt Art Guide features case studies from around the world and a how-to guide for local leaders interested in undertaking their own projects.
To find out what lessons cities are learning from doing this work and how it's fueling local innovation, Bloomberg Cities caught up with two leaders of this growing field. Kate D. Levin and Janette Sadik-Khan are both principals at the pro bono consulting firm Bloomberg Associates, where they advise mayors around the world on arts and transportation initiatives. Levin also leads the Bloomberg Philanthropies Arts program, and Sadik-Khan chairs the National Association of City Transportation Officials.
Lesson 1: Asphalt art makes streets safer 
At a time when traffic fatalities are going up, street art offers a way to make streets safer—particularly for pedestrians and bicyclists. That's especially true where the art blends with traffic-calming measures to slow cars down.
Kansas City, Mo., for example, transformed one dangerous intersection not only with street murals, but also planters and bollards in ways that extended sidewalks, narrowed traffic lanes, and shortened crosswalks. Average speeds at the intersection dropped by 45 percent, and the percentage of pedestrians who reported feeling "very safe" at the intersection jumped from 23 percent to 63 percent.
That promising result lines up with what's happening elsewhere. A study released this month looked at 22 locations with asphalt art installations and found a 50-percent decrease in the rate of crashes involving pedestrians and other vulnerable road users. Drivers were also observed to be more inclined to yield to pedestrians, while pedestrians obeyed traffic signals more.
"This kind of information," Sadik-Khan says, "gives mayors, community members, and national policy makers the evidence needed to show that not only will these projects do no harm, but they actually prevent harm from happening in the first place."
Lesson 2: These projects accelerate cross-sector collaboration
Every asphalt art project is the product of some kind of community collaboration. Typically, the municipality is involved through its streets, transportation, parks, or some other department, as well as with at least one community-based group and one or more artists. 
These collaborations, Levin says, build a sense of community ownership of the project. They also help local leaders exercise their skills forging partnerships with organizations outside of city hall. "In addition to creating a really valuable contribution to the public realm," Levin says, these projects "create the kind of muscle tone that improves cross-sector collaboration going forward."
Lesson 3: Asphalt art engages residents in new ways
The best asphalt art projects create multiple new pathways for residents to get involved. That can be at early stages of idea development, such as identifying which streets or intersections to transform. Residents can also be involved in the artistic design. In Durham, N.C., for example, more than 1,800 residents last year voted to select a local artist's designs for painting the crosswalks in front of an elementary school. 
The act of painting is also a great opportunity to engage residents. When Saginaw, Mich., set out to turn three intersections into works of art, nearly 500 residents guided by two dozen artists participated in a "paint-a-thon" event. Such events were valuable ways to maintain social connections during the COVID-19 pandemic, and continue to be critical tools for rebuilding community.
"It turns out painting a street is a socially distanced activity," Levin says. "These kinds of projects have been a real opportunity to get people back together and get them out in the streets talking to each other."
Lesson 4: Low-cost experimentation pays big dividends 
Asphalt art can be a great way for local leaders to try out light and quick solutions that allow for rapid learning. Once work starts, it can usually be done in a week or less. "Comparatively speaking, it's instant gratification, when you consider the timeline it takes to do so many things in the civic realm," Levin says.
What's more, art projects are a complete bargain in comparison to typical infrastructure projects. Overhauling a street by pouring concrete can cost millions. By contrast, asphalt art projects typically come in at a cost of less than $25,000. 
"Paint and other temporary treatments cost a fraction of typical capital work, and deliver real results for pennies on the dollar," Sadik-Khan says, noting an opportunity for U.S. cities to tap some of the new $1.2 trillion federal infrastructure law for this purpose. "You can buy a lot of paint for a trillion dollars."
Lesson 5: Asphalt art opens eyes to innovation
While leadership in asphalt art projects can come from many parts of the community, Levin says, some of the biggest champions are mayors who are eager to try new ways of solving problems. In Reno, Nev., for example, Mayor Hillary Schieve catalyzed the effort to turn 18,000 square feet of concrete atop a rail tunnel into a colorful plaza where festivals, concerts, and other community events are held. 
"Usually," Levin says, "it comes out of cities where mayors have clearly set the tone for embracing innovation."
That embrace of innovation can snowball on itself. Sadik-Khan says asphalt art projects done in New York City when Mike Bloomberg was mayor changed attitudes among municipal officials and the public alike, building an appetite to do more. 
"Projects like these help cities see their streets in new ways," Sadik-Khan says. "People in New York didn't believe their streets could even change—they'd looked the same way for 60 years. We were able to show what was possible just with paint and planters. It creates demand and opens new avenues to collaborate with communities."
Photos provided by Bloomberg Philanthropies