​
22 mayors from North and South America join City Data Alliance to chart new frontiers for data-driven government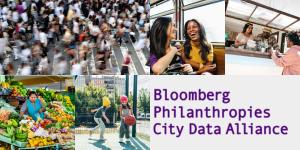 Over the past decade, city leaders have grown increasingly more sophisticated in their use of data to inform decisions, improve services, and deliver impact for residents—an evolution that was especially clear at the height of the COVID-19 pandemic.
Mayors around the world marshaled data in new ways to spot outbreaks, target testing and vaccination campaigns, address inequalities, monitor hospital capacity, advocate for resources, tailor masking and lockdown policies, and communicate with the public. There's little doubt that the dynamic capabilities mayors and their teams built to analyze and act on key metrics in real-time saved lives.
Now, some of the cities around the world using data most effectively to serve their residents are ready to see how they can scale their efforts.
This week, mayors from 22 cities across North, Central, and South America are in Baltimore to kick off their participation in the Bloomberg Philanthropies City Data Alliance. Their shared mission: to build on their already strong foundations to discover together what the next level of data-driven local government looks like.
"These local governments are already leaders in using data to transform public services and deliver more for residents, especially those who've been left behind," says James Anderson, who leads Government Innovation at Bloomberg Philanthropies. "The COVID-19 pandemic revealed how central data is to government that works. The Bloomberg Philanthropies City Data Alliance will help these cities detect problems earlier, manage resources more effectively, and target resources to those who need them."
The 22 participating cities come from seven countries and include: Baltimore, Md.; Baton Rouge, La.; Buenos Aires, Argentina; Charleston, S.C.; Chattanooga, Tenn.; Detroit; Fortaleza, Brazil; Guadalajara, Mexico; Kitchener, Canada; Montevideo, Uruguay; Regina, Canada; Renca, Chile; Rio de Janeiro; Riverside, Calif.; Rochester, Minn.; Rosario, Argentina; San Antonio, Texas; San Pedro Garza García, Mexico; Scottsdale, Ariz.; South Bend, Ind.; Tempe, Ariz.; Tulsa, Okla.
"This group was hand-selected because they've already demonstrated they're committed to using data to drive impacts in their communities," says Beth Blauer, Associate Vice Provost for Public Sector Innovation at Johns Hopkins University and a leader of the new program. "But the reality is that no city has fully integrated this practice across all of their work. The City Data Alliance will define the future together with these mayors who already have been pushing the field forward. The objective is not just to help cities, but to help the field demonstrate what having a comprehensive citywide data strategy means, and what it means to have a workforce that's able to deliver on it."
Through a $60 million Bloomberg Philanthropies investment, mayors from each city will receive executive education and expert coaching to build their leadership skills around using data. Afterward, senior staff from each city will get further training around a critical data capacity, such as performance management, procurement, evaluation, or data as a service. A total of 100 cities will join the City Data Alliance over the next two years. 
"It's about creating a culture of data-driven decision making, so that it's not episodic in nature but just how cities do business," Blauer says. "The goal is to get to a place where cities are using data and evidence to know whether or not their investments are paying off, whether they're being smart about program development, service design, and all of the things data has the power to do. It's going to be a very exciting time because these mayors who are so accomplished will be the ones leading the way."
Tulsa, Okla., Mayor G.T. Bynum is one of those mayors. Bynum's efforts to reduce racial disparities in income, life expectancy, and dozens of other outcomes is anchored in an annual review of more than 50 measures that inform changes in the city's policies, practices, and programs. The effort has shown quantifiable gains in equality since it began in 2018, although there is a long way to go. Tulsa also is overhauling its entire budget process toward a data-driven system that will fund programs and services according to the outcomes they achieve.
"We are at an important inflection point in our development of the city of Tulsa's data capabilities," Bynum says. "We have developed buy-in with our senior leadership team, with our department directors, and with the residents of Tulsa in the value of using data for our city government in making decisions and improving performance of city services. But we're ready to take that work to the next level. And our participation in this Alliance will continue that work."
[Read: Bloomberg Philanthropies expands cities' data programs across the Americas]
In Regina, Canada, Mayor Sandra Masters says data is the foundation of the city's push to achieve "net-zero" in its greenhouse-gas emissions by 2050. City leaders recently conducted an energy inventory to better understand its biggest drivers of energy consumption. That data set a baseline for an Energy and Sustainability Framework the city council approved unanimously in March. 
"We have benchmarking data now in terms of our energy use in municipal facilities, but also for the entire community, and we've got mathematical modeling for how to get to net-zero emissions by 2050," Masters says. Where Regina needs to improve, she says, is in using data to create "a constant feedback loop to be continuously addressing where we're falling short and what mitigating plans we come up with to deal with the challenges identified."
In San Pedro Garza García, Mexico, Mayor Miguel Treviño says his city has "already seen great results, even with small-scale implementation of data-led processes."  For example, the city's tax collection agency boosted revenue by identifying which kinds of incentives make property owners more likely to pay their property taxes on time. A data-driven approach to police deployment has slashed police response times from five minutes to less than three.
"I have made it clear to my team that all decisions need to be driven by data and evidence," Treviño says. "We have a team that has a lot of capacity to do great things and we want to be at the forefront of positive change in Mexico. We believe that Bloomberg Philanthropies can be a great ally in this."