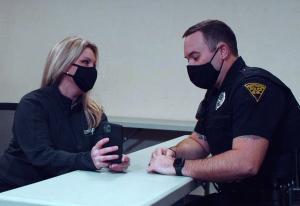 Huntington supported the mental and physical wellness of first responders.
THIS PROJECT CAN HELP YOU ADDRESS:
• High levels of mental and physical stress amongst first responders and front-line public servants
• High turnover and less capacity to deliver high-quality care
• Lack of available tools and resources aimed at improving physical, mental wellness and self-care
THE PROBLEM
Huntington's first responders face 10 times the national average of opioid overdoses resulting in feelings of depleted empathy, higher turnover, and less capacity to deliver high-quality care. Only 37% of Huntington's first responders report having adequate resources to do their jobs well.
THE SOLUTION
Through the Compass program, the City of Huntington will support first responders on the front lines of crises by embedding mental healthcare professionals within emergency response departments, ensuring that first responders are able to give the best care possible to opioid users. Activities include individual coaching, group trainings and social activities held in a state-of-the-art well center available exclusively to first responders and tailored to meet their needs.
Although originally designed with the pressures of the opioid crisis in mind, Compass is proving adaptable as first responders walk a new tightrope on the frontlines of the COVID-19 pandemic.
THE IMPACT
First responders have received over 390 hours of wellness coaching since project launch.
73% of first responders attend wellness events for them and their families.
DOZENS OF CITIES ARE PUTTING THESE IDEAS INTO ACTION
Learn more about other Mayors Challenge-winning programs.